---

Hall 1
PROPHETIC WORK : THE ASYLUMS OF LA FORCE
Placing value upon the originality and extent of this « prophetic city » designed by John Bost in the 19th century.
Topics covered in this hall :
– John and Eugenie Bost originators of the work
– In what way the asylums of La Force were a prophetic vision ?
– The « sister » institutions Bethel in Germany and Sonnenhof  in Alsace
– The treatment of "differentness" in the 19th century : the context in France when the asylums appeared at La Force
---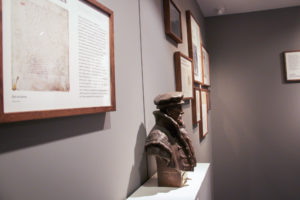 Hall 2
EMERGENCE OF THE PROTESTANTS AND THE ORIGINS OF THE BOST FAMILY
Some simple landmarks in Protestant history, explained within the general history of worldwide religions and concepts. John and Eugenie Meynardie Ponterie-Escot, personal and family history.
Topics covered in this hall :
– History of worldwide visions and history of religions
– The history of the Protestants
– Chronology, Protestant history
– Genealogy of the Bost family and the family Meynardie Ponterie-Escot
– The young John Bost and his arrival at La Force and with the Meynardie family
---
Hall 3
JOHN AND EUGENIE BOST : A LIFE'S WORK
The creation of the "Asylums of La Force" and their development over the course of the 19th century.
Topics covered in this hall :
– At this time
– The first asylums
– The gift
– A « doctor » for all people
– A healthy life and occupational therapy
– The Bost family at Meynard
– The music
– Recognition as a public utility
– Looking to the future
---
Hall 4
OTHER BOST'S IN THE 20TH CENTURY : CHARLES BOST TO RENAUD
A selection of extraordinary characters :
– Charles Bost, priest and protestant historian
– Charles-Marc Bost, his son, Bost family historian
– Pierre Bost, author and film scripwriter
– Jacques-Laurent Bost, journalist and translator of novels
– The singer Renaud (Renaud Séchan)
---
Hall 5
The Fondation John BOST in the 20th and 21st Centuries
Continuing the inspiring and relentless work of its founder, the successors of John Bost have continued to evolve the asylums and the « pensionnaires » now known as « residents"
The asylums of the Foundation John Bost, uncover the evolution of the institution since the beginning of the 20th century until today through its practices and numerous testimonies.
A multimedia table and three screens allow you to browse through the history of the Foundation.
---

Hall 6
Creation : Other look ?
The original artistic creations of the residents are placed throughout the halls. Their presence may be linked to the subject in question or simply may create a reaction. This is at the heart of the message of the Home of John and Eugenie Bost.
This evolving space is dedicated to the artistic work of the residents over time.